Planning a Wedding? This party is the perfect excuse to get together with your friends and family.
The Wedding invitations must have the exact place and date of the event. The beautiful phrases are perfect to express to the guests how important they are. The phrases can be included in the invitations as in the memories, thank you card that is given to each guest.
Invitation Wording for a Wedding.
Do not worry wedding invitation etiquette rules aren't that complicated
We are consulted daily, what does a Wedding invitation have? or How to fill a Wedding invitation? Or what to put on a Wedding invitation? Here are several ideas and models of invitation for you to choose. there are basic elements that should be included. There are different styles of wording some examples classic and traditional or creative and whimsical. With which style do you feel identified?
What to Include on Your Wedding Invitation
Invitation Template 1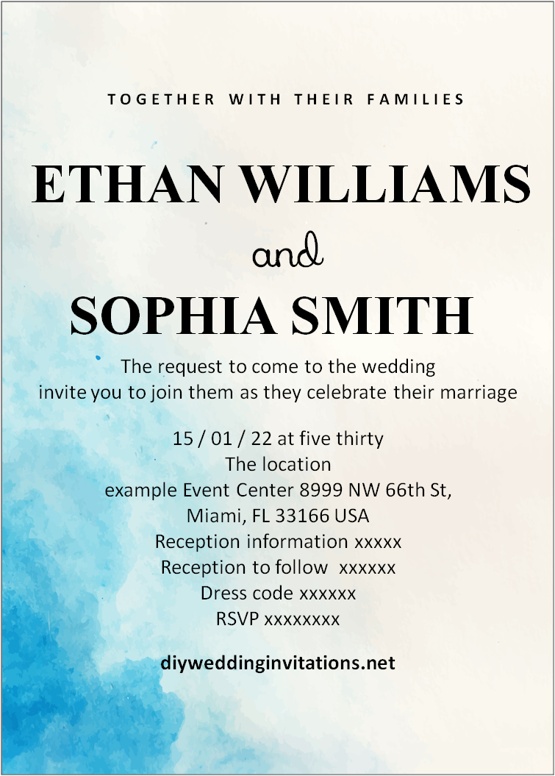 Who's hosting (optional)
Together with their families
The names of the couple
examples Ethan Williams + Sophia Smith
The request to come to the wedding
invite you to join them as they celebrate their marriage
The date and time
15 / 01 / 22
at five thirty
The location
example Event Center 8999 NW 66th St, Miami, FL 33166 USA
Reception information
Reception to follow
Dress code
Separate RSVP card
Invitation Template 2
Join us for the
Wedding
of
The names of the couple
Sophia Smith
and
Ethan Williams
The date and time
15 / 01 / 22
at five thirty
The location
example Event Center 8999 NW 66th St, Miami, FL 33166 USA
Reception information
Reception to follow
Dress code
Separate RSVP card
Invitation Template 3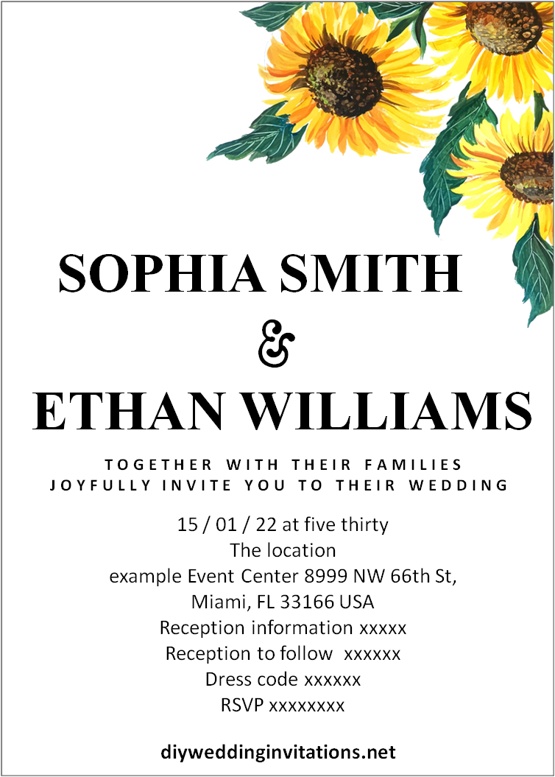 The names of the couple
Sophia Smith
and
Ethan Williams
Together with their families
joyfully invite you to their wedding
The date and time
15 / 01 / 22
at five thirty
The location
example Event Center 8999 NW 66th St, Miami, FL 33166 USA
Reception information
Reception to follow
Dress code
Separate RSVP card
merriment to follow
Invitation Template 4
Mr. & Mrs. Smith
Request the pleasure of your company
at the marriage of their daughter
The names of the couple
examples Ethan + Sophia
The date and time
15 / 01 / 22
at five thirty
The location
example Event Center 8999 NW 66th St, Miami, FL 33166 USA
Reception information
Reception to follow
Dress code (optional)
Separate RSVP card